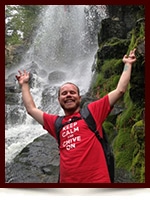 Kristopher David McHale
Kris was born in Ottawa, Ontario – the 1st son to Len & Donna, brother to Ryan (Carly) and Uncle to Ceili and Emma. They moved to Gibbons, Alberta in July 1989, which is where resided until he moved into his own home in North Edmonton. Kris was known for working hard and living his life in a way most of us could only imagine – with a zest for adventure and appreciation for family & friends. Despite his lifetime of medical challenges, he lived as few men dared to dream and enjoyed life to the fullest.
Kris always appreciated the small things in life which was one of his many attributes that touched so many people in a positive way throughout his travels. Family and friends are left with the memories that will live on forever. Kris taught us all how precious life really is and to never waste a moment of it. That is how Kris lived and how he will be remembered!
Thank you for those who have sent special thoughts and prayers throughout this time.  Kris was predeceased by Aunt Jeanette & Aunt Patty and his Grandparents Hilary & Clare McHale.  We thank so many people for attending and loving Kris – grandparents Dave & Sandy Little of Corbyville, ON, Beryl Stovell & Andre Houle of Sundridge, ON, and all the many aunts & uncles and cousins from various locations.
Celebration of Life
Wednesday April 20, 2016 11:00AM
Sturgeon Alliance Church
4910-52 St Gibbons, AB
Memorial Donations
May be made directly to University of Alberta Hospital Foundation (specify Neurological research)
8440 112 Street, Edmonton AB T6G-2B7