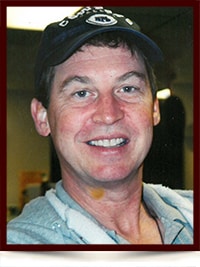 Larry Eugene Perkins
Larry Eugene Perkins April 30, 1955- September 25, 2016
On September 25, 2016 Larry Eugene Perkins slipped away peacefully into God's loving embrace at the age of 61 years after a courageous one year battle with Stage 4 Melanoma. He spent his final 6 days surrounded by his loving family at the University of Alberta Hospital in Edmonton, Alberta and was lovingly cared for by the compassionate staff on the Acute/Palliative care nursing Unit 5D3. Our deepest thanks go to these gentle, hard­working angels who helped Larry to rest calmly, peacefully and without pain until God called him gently Home.
Larry leaves to mourn his beloved son, Logan Harrison Perkins (age 15) of Fort Saskatchewan, Alberta, his life partner and soul mate, Dawn Laurel Collins (Hawker), of Edmonton, Alberta, his stepsons Conner Rittammer (age 22) of Camrose, Alberta, Logan Collins (age 22) of London, England, and Brayden Collins (age 20) of Edmonton, Alberta. Larry cared deeply for all of his sons and was an amazing role model and friend to them.
Other loving Canadian family include his parents-in-law, Donald and Kathy Hawker of Edmonton, Alberta and brother-in-law, Malcolm Hawker (and Eva Laskaris) of Austin, Texas, who made the long journey to Edmonton to spend Larry's final 3 days with him. Many other loving aunts-in-law, uncles- in-law and cousins-in-law were blessed to have known Larry and over the past 13 years that he lived in Canada, have opened their hearts and their homes to him. You know who you are and Larry's deepest thanks go to you for welcoming him into the loving circle of family here in Canada.
Larry was blessed to have made many dear friends in Fort Saskatchewan where he lived for 12 of his 13 years in Canada. For 5 of those years, Larry proudly owned and operated the Water Warehouse in Fort Saskatchewan where he conscientiously served and touched the hearts of all who came to him for water, advice, friendship, or a good laugh when they were feeling down. Larry spoke frequently and fondly of his friends and customers and he was saddened when he sold his business in 2013.
Larry was born on April 30, 1955 in South Hill, Virginia, an only child to Howard Otis Perkins and Nora Irene Perkins (Walsh) of Kenbridge, Virginia, who predeceased him in 2003 and 2011, respectively. During his years in Canada, Larry spoke often and very fondly of his family in Virginia and North Carolina who include aunt Elsie Northington and cousins of South Hill, Virginia, and aunt and uncle Hazel and Howard Moore, uncle James Walsh and numerous cousins in North Carolina. Larry left pieces of his heart with you all when he moved to Canada.
And last, but not least are all of Larry's dear friends and "brothers" whom he loved, deeply missed, and spoke of very frequently. It broke Larry's heart to leave all of you behind when he came to Canada and many hours and hours of hilarious stories have been told of all of you during the cold, but cozy Canadian winters that Larry spent here. In the same special and unique way that Larry had of touching people's hearts, the loving and cherished stories that Larry told of times spent with each of you over the course of his life, are testimony to how very special each of you were to Larry. Larry kept you close in his heart despite the many miles that separated him from you.
"How lucky I (we) am (are) to have something that makes saying good-bye so hard." Winnie The Pooh. Many thanks to everyone who supported us throughout this past year and to all who have posted kind and loving memories of Larry on his Facebook page.
Larry wished to be cremated and did not want a funeral. Trinity Funeral Home (www.trinityfuneralhome.ca) in Edmonton, Alberta is taking care of the arrangements and Clarke's Funeral Home in Kenbridge Virginia will post an obituary on their website. Celebrations of Larry's Life will be planned for the summer of 2017 in Canada, Virginia, and North Carolina.
In lieu of flowers, donations can be made in Larry's name to the Cross Cancer Institute where Larry received the best in cancer care this past year from a highly trained team headed by the wonderful Dr. John Walker. (www.albertacancer.ca) or by mail to Cross Cancer Institute, 11560 University Avenue, Edmonton, Alberta, Canada T6G 1Z2