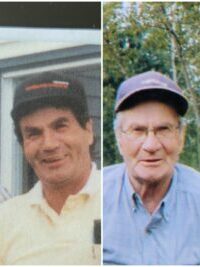 Laurier Lionel Coulombe
November 21, 1937
-
September 4, 2021
Our beloved Dad, husband, Grand-papa passed away peacefully at home Saturday Sept 4. His was a quiet 3 year struggle with a failing heart and cancer. He never complained of pain or discomfort. He appreciated all who came to see him and never let a care worker leave without a huge thanks for their attention. He demonstrated great dignity and respect as he slowly declined. He was a man with unwavering faith and believed God would come for him when the time was right.
He leaves to mourn his wife of 59 years Marielle (née Beaudoin), 5 children and 13 grandchildren- Louis(Nicole): Brigitte, Liam, Isabelle,Christine, Geneviève; Marc(Sheila): Alyssa, Brie, Chad; Alain(Sherri): Justin, Jordan, Jared; Adèle (Jean); Émile: Noah, Cosette and 5 great-grandchildren: Erynn, Austin, Isaac, Riley, Miles.
Born in Legal, AB, 1937, the 12th of 16 children. He is predeceased by Germaine, Émilien, Maurice, Eugène, Marcel, Lucien, Raoul, Roland and is survived by his sisters Céline, Lucienne, Sr. Jeannine, Sr. Elisabeth and brothers Ferdinand, Clement, Dominique.
He lived with a strong work ethic and as hard as he taught us to work, he had tremendous ´joie de vivre'. Those who knew him were on the receiving end of his insightful wit and mini life philosophies. He loved music! Sunday afternoons were commonly enjoyed with the cassette tapes playing as our soundtrack. With that love of music he was also quite the dancer.
He believed in being busy and of service and treasured his tranquil moments too(but not too long…he had things to do!) No job was too big or too small. Family, friends and neighbours all knew of his exceptional generosity of time and spirit. He was a very appreciative man and no kindness bestowed upon him went unrecognized. He celebrated life every day. He showed us the power of example until his dying breath.
The family would like to thank Dr. Denis Vincent for his compassionate and exceptional care- above and beyond!
Que la Paix du Seigneur soit avec vous pour l'éternité et qu'elle nous accompagne avec votre amour jusqu'au jour qu'on vous rejoint.
Celebration of Life @ Trinity Funeral Home Saturday Sept 18 at 10am.