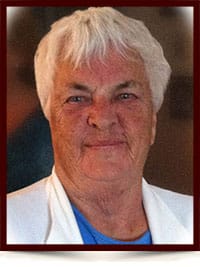 Leah Lois Grimstead
It is with great sorrow that we announce the passing of Leah Lois Grimstead on January 11, 2017 at the age of 82, after a long and courageous battle with cancer.
Leah was predeceased by her husband George, son William, daughter-in-law Barbara, brother Ted and sister Mary.
Leah is survived by her children, Robert (Linda) Grimstead, Barry (Kathy) Grimstead, Jack (Jane) Grimstead, Daughter in Law, Janice Grimstead, sisters Evelyn (Larry), Elaine (Kelly), Barbara (Doug) and Wendy (Dwayne), as well as 8 grand children and 8 great grand children.
A Celebration of Leah's Life
Saturday, January 21, 2017
Drop in for refreshments between 10:00 a.m. and 1:00 pm
Trinity Funeral Home Reception Centre
10530 116 Street, Edmonton AB.