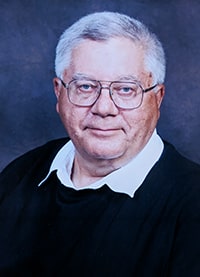 Leo Kissau
On April 11th, 2019, Leo Kissau of Edmonton, Alberta passed away at the age of 75.
Leo was born on route to Germany from Poland on November 20, 1943. He immigrated to Canada with his family at the age of 9. He worked as a draftsmen and even designed and built his own house in Beaumont, AB. Leo and his former wife, Arlene Kissau, raised their children in St. Albert, AB.
Music was a big part of his life including being able to play the accordion, piano and singing in both the German and English church choirs. Leo was strong in his faith and the church community played a large role in his later years.
Leo is survived by his three children, Matthew (Sheila) Kissau, Richard (Linda-Ann) Kissau, and Bridget (Trevor) Smith, 2 grandchildren Skye and Sage Smith and many nieces and nephews. He was predeceased by his parents Arnold and Erna Kissau, and brother Harry Brokop.
The memorial service for Leo will be held at Trinity Lutheran Church (10014 - 81 Avenue), in Edmonton on Thursday, April 25th, 2019 at 1:00 pm.