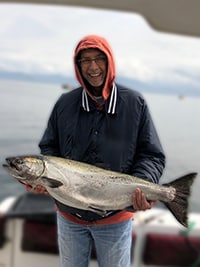 Leonard (Leo) John Kowalyshyn
On Tuesday, February 25, 2020 Leonard (Leo) John Kowalyshyn passed away at the age of 54 years with his wife and two daughters by his side.
The saying "Born to live – live to die – treat everyday like it's your last" was one of Leo's favorites. He lived life large and to the fullest. He loved spending his free time fishing, camping, cooking over an open fire, having shots of tequila with good friends and spending as much time as he could at his family vacation home in Mexico.
Leo was born on May 16, 1965 in Ituna, Saskatchewan as the only son of Vonda and Leo Kowalyshyn. He left his hometown after high school graduation in 1983 and moved to Edmonton, Alberta where he began his career in the residential housing industry. He worked as a manager & estimator in that industry for over 36 years and met many who would become lifelong friends during his career.
In 1986 Leo met the love of his life and soulmate, Brenda Johnson, whom he would go on to spend the latter 34 years of his life with. They had a whirlwind romance lasting over 10 years and eventually married on June 26, 1996. On March 8, 1999 their beloved daughter Kayla Lee was born and on January 22, 2001 they welcomed their second loving daughter, Trinda Leah.
Leo was predeceased by his parents and is survived by his adoring wife and daughters, his many friends and his extended family; including his sisters Arlene Pelley, Audrey Kowalchuk and their families.