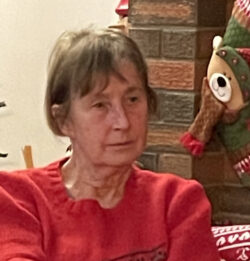 Lisa Scherer
February 3, 1948
-
May 10, 2023
It is with a heavy heart that the family of Lieselotte Scherer announces her death on May 10, 2023.
Lieselotte was born on February 3, 1948, in Bad Mergentheim, Germany, to the late Eduard and Berta Scherer. The family immigrated to Canada in 1955 with seven children in tow and settled in Southern Alberta on a small farm. Lieselotte graduated from grade 12 in Coaldale. Tired of the various pronunciations of her name, she decided then to change her name to Lisa.
Lisa attended the University of Calgary where she obtained her Bachelor of Education degree. Being a student, Lisa appreciated being able to live with her sister Erna and her young family. Lisa caught her travel bug early in life. Soon after obtaining her permanent teaching certificate, she was off to Europe, Africa, the Middle East, and India. It was only a shortage of money that made Lisa reluctantly return to Canada. She started teaching English at Concordia Lutheran College in Edmonton in 1975. She earned her Master of Arts in English from the University of Alberta in 1990.
She remained at Concordia until she took an early retirement in 2008 after being diagnosed with myelofibrosis. Lisa never complained about having myelofibrosis, and was able to enjoy a great retirement despite feeling the effects of her disease.
Lisa loved the company of her many friends attending theatre productions, movies, concerts, and book club meetings. She enjoyed many home-cooked meals at their homes, and frequently entertained friends and family in her home with delicious meals. She was an adventurous and talented cook; while she often tried new recipes, she had many beloved standby dishes in her repertoire as well. She also found immense pleasure in gardening, and Lisa could often be found puttering in whosever garden she was visiting. True to her character, she did not hold back when commenting on how she found the state of their garden.
Lisa was also a voracious reader. She had quite a collection of books and was always encouraging others to read. She enjoyed her crossword puzzles, and solving the yearly giant Christmas crossword in The Globe and Mail became a family tradition. After her nephew Michael introduced Lisa to Wordle, she made solving that problem part of her daily routine … even up to her very last day. Speaking of routines, Lisa and her sister Ingrid phoned each other daily. They solved many word problems, and those conversations allowed them to forge an even stronger bond.
Later in life Lisa still travelled, going to Eastern Canada, France, the USA, and more local trips to B.C. She often visited friends and spent time with family while travelling.
Lisa is survived by her sisters Erna and Ingrid (Sjoert), sister-in-law Edelgard, and numerous nephews and nieces.
She was predeceased by her parents and siblings Wilma, Erich, Hilde, and Richard.
Lisa spent the last week of her life at the University of Alberta Hospital in Unit 5E2, and was well taken care of. The family would like to especially thank Dr.'s Choi and Hwang for their amazing care and support.
Lisa enjoyed a full life, treasuring her independence and was never shy of expressing her opinion. While a free spirit, she was also often busy helping friends and family in their homes or yards, and never shied from hard work. We will all miss Lisa very much.
Honouring her explicit wishes, a private family gathering will be held at a later date. For those who may wish to make a memorial donation in Lisa's name, her preferred charities were local food banks and The Hope Mission, as she cared greatly for those less fortunate.