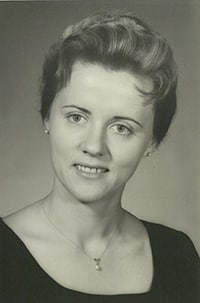 Lila Doris Hanson
April 14 1934 - May 22 2019
Lila Doris Hanson of Edmonton, Alberta passed away Wednesday, May 22nd 2019 at the University of Alberta Hospital in Edmonton, Alberta. She was 85 years old.
Doris was born in Provost, Alberta on April 14th 1934 to Ole and Lizzie Hanson, pioneering farmers in the Cadogan area. Family was very important to Doris throughout her lifetime, and she cherished the close connections formed in those early days with both immediate and extended family throughout the Provost area. She went on to study art and design at the Provincial Institute of Technology and Art in Calgary, graduating in 1957. She subsequently worked at several health facilities focusing on occupational therapy using creative projects to aid in the rehabilitation and recreation of patients.
Preceding her in death were her parents, Ole and Lizzie Hanson (Botting), and twin sister Doreen Rosich. She is survived by sisters Verna Davis and Olive Peigl, son John (Pam) Hanson, grandchildren Anikka and Kalina Hanson, nephews Joseph (Sara) Rosich, Ronald (Rose) Peigl, nieces Christine (Shane) Rollans, Terri Peigl, and great nieces and nephew Sofia, Mary and Lily Rosich and Charlotte and Keith Rollans.
Service will be held in Edmonton, Alberta at Holy Spirit Lutheran Church, 11245 51 Ave NW, on Saturday June 15th 2019 at 11:00 a.m. Interment at the Cadogan Lutheran Cemetery will follow at a later date, where she will join her beloved sister Doreen.
In lieu of flowers, the family requests donations to the Glenrose Rehabilitation Hospital Foundation, where Doris worked for nineteen years.