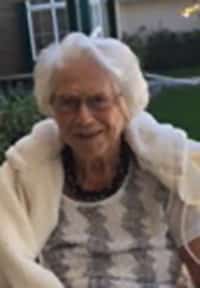 Lois Elizabeth Bergot (nee Cooke)
1916 - 2019
Lois passed away peacefully with family by her side on September 19, 2019.
She was the loving and beloved matriarch of our family and will be terribly missed but always remembered for her caring, nurturing support, tremendous work ethic, feistiness and sense of humour.
Lois was predeceased by her husband Ed, and leaves behind her children, Glenda, Terry (Gail), Robert (Cora), Susan (Lome), Myrna (Al); grandchildren Dana, Jamie, Nicole, Cristy, Stacy, Jarrett, Jordan, Laura, Jeff and Cariss and step-grandchildren Rob, Sharon and Michael; great-grandchildren Cassandra, Danielle, Joshua, Emma, Ana, Ava, Tyra, Hamish, Aslan, Brodie, Jake, Tommy, Reese, Ethan, Colton and step-great grandchildren Ella, Alex, Brittany, Alexis; and great-great grandchild Jameson.
Lois was born in Grande Prairie in 1916, where she grew up with a love of sports and music. She spent most of her married life in Edmonton, a city she was devoted to. She loved to work and spent years as office manager of Trimac and Economy Carriers. Following retirement, she happily assisted Tom, Bill and Denise at Magic Lantern Theatres, and we appreciate their thoughtfulness in remembering her every Christmas after she left their employ with a bouquet of flowers.
Besides her love of Edmonton, Mom loved her garden and toiled in it from sunrise to sunset until she was unable to do so at age 98.
Lois resided at Laurier House Lynnwood for the past 3 1/2 years and our heartfelt gratitude goes to her wonderful caregivers and other staff, including Rafael, Rosario, Bobby, Tannis, Frances, Grace, Yvonne, and so many others too numerous to mention.
A private family gathering will be held next year.
In lieu of flowers, donations can be made to Laurier House Lynnwood, 16815 - 88 Avenue, Edmonton, T5R 5Y7.