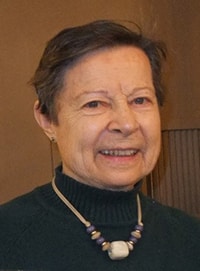 Louise Webster (née Woods)
July 4, 1927 - September 12, 2018
Louise passed away peacefully on September 12, 2018. What joy there must have been in heaven when she and Gordon were reunited! They will be dancing together again. Dementia was slowly shrinking Louise's world and her abilities, but she remained cheerful, polite, proper, and dignified. She was our Queen.
Mourning her loss are daughters: Linda Relling (Tom), Ann Stebner (Randy). Grandchildren:  Katrina (Ben), Megan (Kane), Len, and Jock (Michelle). Great-grandchildren: Julian, Cadence, and Kara. Siblings: Nan (Jack), Peggy (Ron) and John. Also, many nieces and nephews and her Bible study group. She was predeceased by her husband Gordon in 2016.
Celebration of Life
Tuesday October 23, 2018, 1:00PM
Gospel Centre Pentecostal Church
9445- 153 Street NW, Edmonton
In lieu of flowers, donations may be made to a charity of your choice.