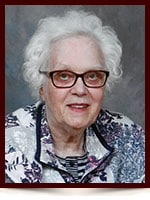 Lucille (Toots) Longson nee Shuttleworth
Lucille (Toots) Longson passed away suddenly at the University Hospital on March 4, 2016. Lucille is survived by her husband, Neil A. Longson, daughter Ginger (Guy Blanchette), son Neil Ian Longson (Charlotte Longson), and her grandchildren: Chantel and Luc Blanchette, and Juliana Longson. She is also survived by her two cousins, Joyce Leinweber and Grant Shuttleworth, of Balzac, Alberta, and their families.
Lucille was a school teacher, and later a stay-at-home mom. She was the Executive Director of the Edmonton Kiwanis Music Festival for two years. When her children "left the nest", Lucille worked for the Royal Alberta Museum and for Edmonton Tourism. After retirement, Lucille and Neil spent many pleasant winters in Mesa Arizona. She will be dearly missed by ail who knew her.
The family is grateful to the Dr. Gerald Zetter Care Centre Staff for the care they provided to Lucille in the final year of her life.
Memorial Service
Saturday, March 26, at 2:00pm
Grace United Church
6215 104 Ave NW, Edmonton
In lieu of flowers memorial donations can be made to a charity of your choice.