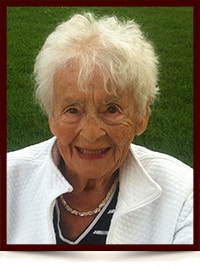 Margaret Lucille Parker (nee Marshall)
December 12, 1930 – April 2nd 2017
It is with great sorrow, love and gratitude that we announce the passing of our mother, Margaret Lucille Parker. Mom was game to do anything and go anywhere, especially if it involved a game of crib, visiting her family, chatting with anyone and everyone, shopping or something delicious to eat. She had many great friends, and all those who knew her will remember her bright eyes and her generous smile.
Survived by her loving children: Laurelle Johnson (Graham), Linda Trendall (Les), Bonnie Brugger (Terry), Barbara Parker (Tony), and David Parker (Kate), 10 grandchildren and 14 great grandchildren. She knew them and loved them all. The great grands knew her as GG; they gave her endless pleasure.
The family would like to extend special thanks to her medical specialists, Dr. Lorree Larrett and Dr. Curt Johnson, for treating Margaret for many years with such skill and respect . She loved you both. Countless other medical personnel worked tirelessly to help her recover from several health issues, and granted us all more time and joy with her.
To the staff at Glastonbury, who bore the burden of her final months with grace, patience and unending kindness, thank you.
Margaret will be greatly missed. She leaves a legacy of unconditional love that her family and friends will always treasure.
Celebration of Life:
Sunday, April 23rd, 2017
2:00 pm
Caleb Manor
6411 199 St NW, Edmonton, AB T5T 6Y4
In lieu of flowers, donations to the SPCA or the Capital Care Health Foundation would be appreciated.