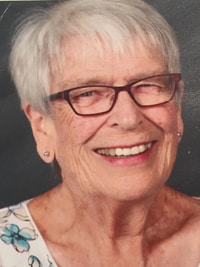 Margaret (Margot) Mossman
Margaret (Margot) Mossman passed away on May 30 th, 2020 at the age of 91 years.
She was predeceased by her husband Ronald Mossman and her daughter Katherine Dowling. She is survived by  her two sons David Dowling of Vancouver and Paul Dowling of Vegreville.
She will be missed by her four grand children Jesse Dowling ,Tarah Dowling ,Matthew Dowling and Cary Sara ,as well as numerous nieces and nephews.Her many friends will miss her quick wit and friendly banter.
In keeping with her wishes there will not be a funeral or memorial services.
She requested memorial gifts in lieu of flowers and donations be made to:
Bissell Center
5124 122 St NW Unit 109
Edmonton, AB