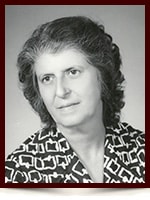 Maria Fernanda Borges
Septmeber 4, 1920 - December 4, 2014
On December 4, 2014 Mrs. Maria Fernanda Borges of Edmonton passed away at the age of 94 years.
Maria is survived by her four children: Vinildo, Dalia, Fernando (Merces) and Gualter; seventeen grandchildren and twenty-four great-grandchildren.
She was predeceased by her husband Joao, her son Victor, grandson John Camara, daughter-in-laws Matilde and Conceicao and her son-in-law Manuel Dinarte.
Mass of Christian Burial
10:00AM Tuesday December 9, 2014
St. Alphonsus Parish
11828 - 85 Street Edmonton, AB
Interment
St. Michael's Cemetery