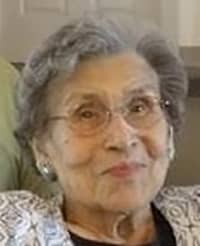 Marianne Emily Armstrong
On Friday, June 21, 2019 Marianne Emily Armstrong passed away quietly in her sleep at the age of 94 years.
Marianne is predeceased by her loving husband Ed, her son Ted Armstrong and her precious granddaughter Stephanie Gardiner.
She is survived by her daughter Tammy (Byron) Gardiner; her grandsons Wade (Sharla) Gardiner, James Armstrong, and Michael Armstrong. She was great-grandmother to 8. She is also survived by her sister Ina Blackbird. Marianne was loved by all and will be greatly missed.
A celebration of Marianne's life will be held on Friday, June 28, 2019 at 2:00 pm at Heartland Alliance Church in Sherwood Park.