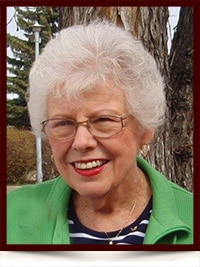 Marilyn Joyce Edwards
On Sunday, November 19, 2017 Marilyn Edwards of Edmonton passed away at the age of 81.  Lovingly remembered by her family: husband of 56 years Ronald, daughter Robin (Craig) Murray and daughter in law Shirley; grandchildren James, Claire and Gillian. Marilyn was predeceased by her son Drew in 2003.  Marilyn will be remembered by family, friends and extended family as the caring, compassionate, loving centre of our family.  She was happiest when surrounded by her family and friends who enjoyed her quintessential hostess skills and highly personable nature, along with the many bounties of her kitchen.
 Born in Edmonton on August 29, 1936, and having lived here all her life Marilyn was a true native of Edmonton.  When Marilyn was almost 5 her mother died.  With the onset of war shortly thereafter she was very lovingly raised by her Aunt Jessie and Uncle Morty; they essentially became her parents.  She was a proud graduate of the Royal Alexandra Hospital School of Nursing in 1958 and served proudly on their alumni for many years.  If and when anybody in the family needed medical advice, Marilyn was the first person they'd turn to.
Ron and Marilyn were married in 1961 and raised their family in Edmonton's west end.  Marilyn and Ron walked together hand in hand through life and had both good times and bad.  She was his help mate in his business as well as his partner in life.   Marilyn was a member as a child and became an active and well-liked leader of Girl Guides and the community.  Marilyn loved looking after her home and it was always a welcoming place; she was happiest when it was filled with friends and family sharing a cup of coffee.  She proudly displayed her family photos and treasures alongside her beloved collection of Royal Doulton figurines and she could be counted on to display red geraniums in the summer and poinsettias at Christmas.   She was a very sentimental person and it shows in the many, many photo albums and boxes of mementos that she treasured.
 Marilyn loved being a grandma and all three of her grandchildren recall fondly her sitting in the stands watching every single sporting event, concert and recital.  They also happily recall her warm hugs, squeaky kisses, ear tugs and of course yummy treats.
 Marilyn was a social person and her loss will be felt deeply by many; she always had a kind word to say to everyone she encountered and made a point of getting to know just a bit about everyone she met.  It is fitting that we celebrate Marilyn's life during her favourite season, Christmas.
A Celebration of Life will be held on Saturday December 9, 2017 at 11:00am at All Saints Anglican Cathedral, 10035 103 St NW, Edmonton with the Very Rev Neil Gordon officiating.  In lieu of flowers please donate to a charity of your choice in Marilyn's name.