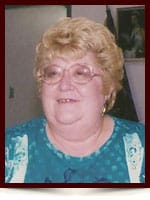 Marion Joan Ursulak
It is with heavy hearts the family of Marion Joan Ursulak, beloved wife, mother, grandmother, sister, and friend to many announce her passing on Tuesday, September 27, 2011 in the company of those she loved the most.
Marion was born November 13, 1940 in Saskatoon to Hank and Gladys Walker.  She is survived by Marshall, her husband of 53 years; her children: Randy (Bonnie), Murray (Cathy), Patty (Don), Barry (Sandra) and Gerry (Tanis); her grandchildren whom she adored: Dean (Janelle), Richard, James, Ben, Breanne, Brad, Hayden, Cassie, Brett, Abby and Dustin. Her brothers; Dave (Glory), Jim (Sandee), sister- in-law Bonnie, brother and sister in laws, Mitch & Darlene Ursulak and Norm & Maureen Ursulak.  She was predeceased by her parents and brother Bill.  She will also be missed by her many nieces and nephews whom she cherished, as well as many dear friends.
Marion has left an everlasting legacy and she will be dearly missed by everyone she touched in this journey.
Celebration of Life
1:00PM Monday October 3, 2011
Richmond Park Church
9340 69 Avenue NW, Edmonton, Alberta
Memorial Donations
CNIB or Cross Cancer Clinic
12010 Jasper Avenue
Edmonton, Alberta T5K 0P3