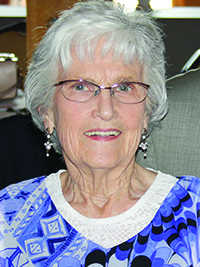 Marlene Eleanor Galan
July 11, 1936 - May 27, 2018
It is with sadness, great trust, and hope in our Lord we announce the passing of Marlene Eleanor Galan, formerly of Regina, SK from this life into eternity with Jesus on May 27, 2018, age 81.
Predeceased by her parents Mildred and Milton Hall, sisters Evelyn Bechard and Priscilla Galan, brother Ronald Hall, brothers-in-law Don Galan, John Radmacher, and Brian Galan.
She leaves to honor and celebrate her life, Gordon, her loving husband of 60 years, her daughters Heather (Marv) Adie and Jacqueline (Steve Bankuti), and son Gregg (Pamela) Galan; 10 grandchildren; Nicholas Adie (Kristy), Kristyn (Chad) Sach, Mackenzie Adie, Jacquelynn Adie, Britney (Tyrell) Bradley, Jonathan (Stephanie) Galan, Cassidy (Andrew) Merta, Joseph Galan, John Carter Gonzalez, Macauley Devin and 7 great grandchildren; Grace Peel, Kyrin and Ryiot Adie, Annie, William, and Abbie Sach, and Chase Novakovski. Marlene's passing leaves to mourn her brother Charles (Connie) Hall and in-laws Leonard Bechard, Fred (Sharon) Galan, Joan Radmacher, Judy Galan, Carol Silzer, Brenda (Ken) Railton, and numerous nieces, nephews, cousins and friends.
On July 11, 1936, Marlene was born in Unity, SK.  Soon afterward her family bought a dairy farm near McLean, SK where she spent summer days playing Tarzan and Jane with her brother, Ron, taught her younger brother, Charlie, how to do cartwheels, and shared household chores with sisters, Evelyn and Priscilla.  She would often wander off into their pastures in search of violets, daisies, bluebells, and tiger lilies. In these pastures, she would gaze up to the clouds in the sky and make pictures in her mind wondering what was beyond what her eyes could see.
She loved to read, and in her childhood would get lost in books like Anne of Green Gables memorizing quotes like, "God's in heaven, all is right with the world". Life in McLean was all about community town sports days, calf competitions, fowl suppers, parades, church picnics, and dances. That is where she met the love of her life, Gordon, at age 14. She attended school in McLean until grade 10 when she moved to Regina to complete her grades 11 and 12. Two Weeks with Love was a hit in the theatres that year and it provided the opportunity for Gordon to ask her on their first official date - Abba Dabba Honeymoon!
She went to Teachers College in Moose Jaw for her diploma in 1954. The following year, at age 19, she landed her first teaching position at Starr's Point – a one room, all grades, country school house not far from her family's dairy farm. Her first year teaching she commuted on the family plough horse, Dinah. In that year, she saved up enough money to attend the University of Saskatchewan for her teacher's certificate and completed it in 1957. She landed her second teaching position in Regina for the public school system and that same school year became engaged on Valentine's Day. She married Gordon on May 17, 1958, at Little Flower Church in Regina.
Together with Gordon, she raised 3 children, Heather, Jacqueline and Gregg, who love her dearly.  Marlene loved her teaching profession and impacted so many lives through her gentle and creative teaching style.  Many family traditions were celebrated on Birthdays, Christmas, Thanksgiving, and Easter.
How she lived her life touched us and taught us.  Her hand prints are all over our hearts and lives. She retired from teaching in 1984 to move with Gordon to Saskatoon to start another new small business and a new career as a Bookkeeper. As successful small business owners in a variety of fields, she had the opportunity to travel and live in Tucson, Chilliwack, then back in Regina, and Saskatoon before retiring to Edmonton, AB in 2003. There she spent the remaining part of her life supporting her son and daughter-in-law who are pastors in a local church.
Summer holidays in Kimberley, BC became a yearly family tradition for 18 years. Marlene loved the hikes, the family golfing and games – she was at the heart and center of it all.  Her grandchildren each have personal and cherished memories with their Grandmother.  She was faithful to pray for and cheer on each one of them!  Great grandchildren added another sparkle to her beautiful green eyes and she loved to see them and always asked for the next funny story involving them.  Her cooking and baking skills are famous especially her cinnamon buns, rhubarb, apple, peach, and flapper pies.
If you asked Gordon about his beloved wife he would tell you that "…she is worth more than rubies. I trusted her completely. With her, I had everything I needed. She did me good and not harm for as long as she lived. She welcomed the poor and helped the needy. She was strong and was respected by people. She spoke wise words and taught others to be kind. She watched over her family and never wasted her time. Her children speak well of her. I also praise her, saying, 'there are many fine women, but you excel them all.' Charm is deceitful and beauty is passing, but a woman who fears The Lord, she shall be praised." (Proverbs 31).
Marlene, Mom, Grandma, you will be in our hearts and minds as long as we are on this earth. We will continue to honour your life and memory by pursuing a personal relationship with Jesus Christ, for He is our life purpose, meaning, and hope.
We would like to thank the exceptional staff at the Cross and Saint Joseph's hospitals, especially Station 30 and Palliative Care, who made her last year on earth as comfortable as possible. Your compassion and care are very much appreciated- thank you!