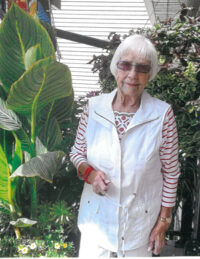 Marlene Ellen Sorensen
September 7, 1937
-
July 4, 2023
Marlene was born in Camrose, AB. and took most of her schooling at Round Hill, AB. Her working years were in the banking world and for the Alberta Dairy Division, till ill health presented her with some challenging years. Marlene committed herself to Jesus Christ and found fulfillment for her soul and healing, which gave her contentment in life. She had the blessed gift of undying optimism and determined to live and appreciate life to the fullest.
Marlene is survived by her two sons: Neil Arden Sorensen and Gary (Ellie) Sorensen and grandson Ty.
As well as extended family: Dale (Gwen) Burnstad, Gordon Pasiuk, Tim (Rachel) Kerber, Judy (Bill) Gardiner, and numerous nieces and nephews.
Her caretaker Miriam (Rueben), children Benjamin, Nicole and Annabelle. As well as beloved friends.
Marlene wanted to let you know that at 85 years young, she has accepted a new position requiring a permanent relocation. This move offers some unique and exciting signing bonuses including her attendance at a gala affair with family and friends that she has not seen in many years. Her parents: Ruth and Olaf, sisters Barb and Helen and brother Willard will be there in the receiving line when she arrives at this momentous event. Her social calendar will be full after the union and we know there will be much joy, laughter and praising the Lord, as was so much the persona of Marlene.
Marlene was left clear instructions to all, "Rejoice, I say rejoice." "To God be the glory."
Marlene lived by faith-died in hope.
A Celebration of Life will be held on July 21st, 2023 at the Wetaskiwin Full Gospel Fellowship 3916-64 Street, Wetaskiwin, AB. at 11 AM.
A Reception will be held following the service with interment to follow.
Donations can be made to:
Living Springs Bible Camp
3610-56 Avenue
Wetaskiwin AB T9A 1X1