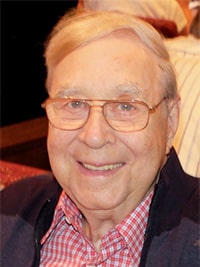 Martin Omar Matheson
Martin Omar Matheson passed away peacefully in Edmonton on December 29, 2017 at the age of 94. Born to Norwegian immigrant parents on September 8, 1923, he lived a full life, beginning on the farm in Unity, Saskatchewan. After marrying Margaret Shellrude, the couple moved to Lacombe, Alberta. Martin was active in electronics, Civil Defense during the peak of the Cold War, animal breeding at the Lacombe Experimental Farm, the Gideons International, Ham Radio (VE6GE), and singing. He had many passions but, above all, he loved wood-working and even in his 90's he made fine, beautiful wooden toys for his grand children. Martin's career was devoted to CBC Radio from the earliest days of massive electrical tube transmitter stations to the modern era of telecommunications. Since 1970, he lived in Edmonton.
Pre-deceased by Margaret on July 30, 2007, Martin is survived by his daughter Carole (David) Ibsen of Spruce Grove, Alberta and his son, Gordon (Tara) of Kelowna, British Columbia. Another son, Garry passed away April 5, 2004. Martin's surviving grandchildren are Lisa (Noah) Asch, Kim (Quint) Newell, Andy Matheson and Johanna Ibsen. He also left five great grandchildren.
Memorial Service
Friday, February 9, at 1:30 p.m.
Shepherd's Care Kensington
12603 135 Ave NW, Edmonton, AB
Memorial Donations
Gideons International