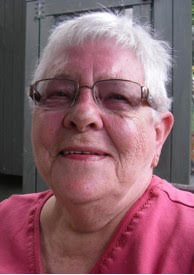 Mary Caroline Toth
September 18, 1934
-
December 10, 2021
Mary Caroline Toth passed away peacefully on December 10, 2021 at the Good Samaritan Southgate Care Centre in Edmonton Alberta.
She is survived by her four daughters, Dorothy, Beverly, Teresa and Diane, her grandchildren, Patrick, Julian, Jason, Laura, Justin, Curtis, Nicholas, Thomas and Tyler and 9 great grandchildren.
Mary was born in Niagara Falls, Ontario on September 18, 1934 to Atila Paul Toth (Czys, Hungary) and Mary Kekstetter (Paks, Hungary) She is predeceased by her siblings, Atila, Ernie and Helen and survived by her siblings David and Shirley.
Mary was married to Cecil Blair Bottenfield while living in Welland, Ontario.  She was an active member of Fire Hall #3 in the Women's auxiliary and was an avid seamstress.  Later in life, she worked outside the home at the Welland Canadian Tire and Budget Rent A Car at the Penticton airport counter. Mary was also involved with the Rebecca's in Edmonton.  She actively volunteered using her gifts and talents.
Mary gave her life to Jesus, giving the family and friends comfort knowing that she is in Heaven with Him.
Special thanks to Beata and Biljana and their staff on the second floor at the Good Samaritan Southgate Care Centre for the amazing care they gave Mary.
Big thank you to Elizabeth and staff at the Trinity Funeral Home in Edmonton for their excellent care for Mary.
There will be a celebration of life in May 2022 in Edmonton,  Alberta.  Please contact Beverly for details in April 2022.