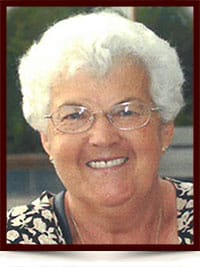 Mary Dzendzel
On Saturday, June 17th, Mary Dzendzel passed away at the age of 83.
Mary was born August 4th, 1933 to Emilio and Maculata Policicchio in the town of Lago, Cosenza, Italy.
She is survived by her husband of 58 years, Nick; daughters Anne and Marilyn (Brian); siblings Gabriel (Rosa) and Velia (Joe); Grandchildren Justin and Jennifer; along with nieces and nephews.
Mary was predeceased by her sister Josephine.
Funeral Service
Thursday June 21, 2017 10:00AM
Trinity Funeral Home Chapel
10530 116 Street, Edmonton AB