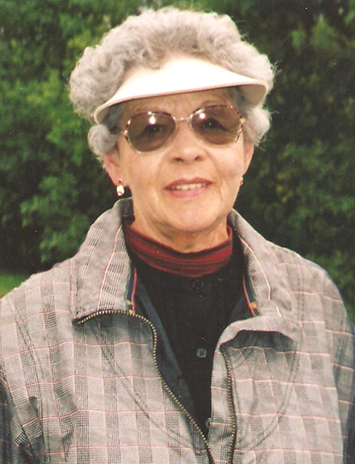 Mary Enid Hart (nee Hannah)
June 19, 1930
-
January 3, 2023
Her family wishes to announce with sadness that Enid passed away on January 3 after living an amazing life for 92 years.
Enid was a lifetime resident of the Highlands neighbourhood in Edmonton.  She graduated from the University of Alberta in 1952 with a degree from the Home Economics Department.
Enid was a multi-talented person who was an expert sewer, knitter of many sweaters, scarfs, toques and mitts, a painter in oils who graduated to acrylics and water colours.  She was an imaginative cook who seldom used recipes much to the chagrin of her children who would ask for squares/cookies/cakes but they always seemed to be different each time.  Enid also enjoyed gardening, playing the piano and organ, and five pin bowling.  Enid loved dogs and always owned a dog having had 7 different dogs and breeds all of whom she walked regularly in the neighbourhood meeting and visiting with neighbours along the way.
But above all else Enid's passion was golf.  She was a City of Edmonton Junior Golf Champion and the City of Edmonton Senior Ladies Champion on several occasions as well as winning numerous trophies from her home club, Highlands Golf Club where she belonged for over 60 years and was an honourary life member.  Enid represented the Province of Alberta on the Ladies Senior Team and travelled to Ontario, Quebec, Newfoundland, Nova Scotia, PEI and Alberta to golf in the Canadian Senior Ladies Golf tournaments.
She volunteered time at the Winnifred Stewart School in the early 1960's which led to a full-time job in the craft centre of the school and then followed it up with time spent at the Research Centre where some of the mature students continued their further job training.  She also volunteered at the Muttart Conservatory leading tours for groups who visited.
Enid is survived by her daughter Diane Hart (partner Louis Verborgstads), daughter in law Cecile Hart, grandson Timothy Hart, and great-granddaughters Breanne Hart, Nikayla Hopkins, and Cassie Cormack. She was predeceased by her husband Edward (Ted) Hart and son Richard (Rick) Hart.
Thank you to the wonderful staff at VentaCare Centre who looked after Enid for the last seven months.
At Enid's request, cremation has taken place and a celebration of life will be held on April 16, 2023 from 2-4pm at the Highlands Golf Club.
In lieu of flowers, donations be made to the memorial tree program at the Highlands Golf Club, 6603 Ada Boulevard NW, Edmonton, Alberta T5W 4N5 or the Edmonton Humane Society 13620 – 163 St NW, Edmonton, Alberta T5V 9Z9.