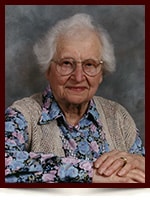 Mary Gadowsky
March 16, 1915 – April 15, 2014
Mary Gadowsky, "Baba" (nee Klachinski) passed away peacefully in Edmonton at the age of 99 years. Born to a pioneering family she lived and worked most of her life in and around Myrnam, Alberta. She led a long, purposeful and active life pouring her efforts into her family, a beloved teaching career, vegetable gardening, traveling, and helping friends and neighbours at every opportunity. Mary was energetic, loving and remained active in her garden and community well beyond 90 years of age.
She is survived by her son, Orson (Vivian) Gadowsky; grandchildren Karen, Shannon (Sean) and Guy (Melissa); great grandchildren Brandon, Simon, Mac, Magnus and Mia; brother-in-law, Kosty Kostaniuk, sister-in-law, Micheline Wengzynowski, and many nieces and nephews. Mary was predeceased by her husband Peter, parents Justina and Samuel Klachinski, stepfather Stanley Pawlyk, infant brother John, infant sister Natalka and siblings Ann, John, Frank and Ethel.
The family is thankful and very grateful to Dr. M. Hartt, the Devonshire Care Center staff and Mary's companions for their loving care and attention.
If friends so desire, donations in Mary's honour may be made to the Canadian Diabetes Association (www.diabetes.ca), Heart & Stroke Foundation of Canada (www.heartandstroke.ca) or the Canadian Wildlife Federation (www.cwf-fcf.org).
A Celebration of Mary's Life will be held at a later date.