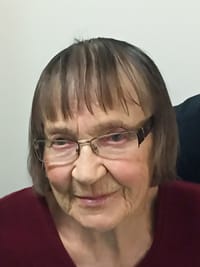 Mary Kosolofsky
Mary Kosolofsky
July 16, 1928 – June 5, 2020
It is with heavy hearts that we announce the passing of Mary Kosolofsky (Chipchura) on June 5.  She is survived by her husband John of 69 years; her children Marlene (Peter), Gail and Curtis (Carol); her grandchildren Darcy (Tonia), Nicole (Matt), Shane, Megan (J.P), Branden (Jessica), Byron; her great grandchildren Trevor, Ashley, Talya, Caiden; Ari and Bryce; and her sister Lil Dawson.
Mary was kind, generous, compassionate, and committed to her family and community.  She was a great cook and everyone looked forward to a meal at her home.  She loved playing cards and games and was always a fierce competitor.  She touched the hearts of everyone who knew her.  She had a soft spot for all animals, especially her dogs and cats on the farm.
Due to the current COVID-19 restrictions a private funeral service will be held at Darling Community Cemetery on June 19, 2020.