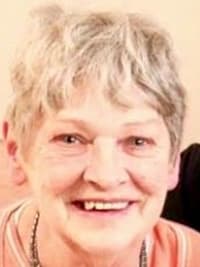 Maryne "Renee" Robinson
Maryne "Renee" Robinson passed away in the early morning on Friday August 24, 2018, leaving behind six siblings: Jim (Catherine), Lyne (Mike), Ricki (Rolly), Terri (Jim), Lorri (Glen) and Molly; five children: Bertha, Andy (Diane), Brian (Adrienne), Paul, and Maryne, thirteen grandchildren: Johnny (Jess), Eric (Dessi), Mitchel (Jane), Travis, Brandan (Shayna), Tanelle, Taylynn, Julianna, Elias, Fox, Jody, Elayna (Brendon), Jordan (Hanna), and five great-grandchildren: Issac, Jacob, Olivia Jane, Tayla, and Olivia, and many nieces and nephews, including their children, whom she loved and cherished. She had a way of making anyone feel like they were the favourite.
Renee touched all who knew her with her gentle ways and kind heart. Her ability and strength brought her through life's storms; she sailed on, no matter the obstacle, with so much Grace and Ease, teaching all who loved her that you can get through anything, no matter how bleak it appears. She used to say, "there's no day so bad it can't be cured with a nap ".
Her presence on this planet will be greatly missed.
Celebration of Life
10:00AM Saturday September 1, 2018
Trinity Funeral Home
10530-116 Street Edmonton, AB