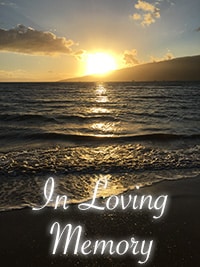 Mildred (Millie) McMullen
It is with great sorrow that we announce the passing of our dear mother, grandmother and great-grandmother, Mildred (Millie) McMullen (Roberts), on April 3, 2019 at the age of 82.
Left to mourn her loss are her five children Lorne (Cheryle), Robert (Becky), Gary (Sharon), Meredith (Richard) and Donna (Hailen), sister Meredith (Harold) and brother Robert, eleven grandchildren Jessica, Vanessa, Natasha, Brandon, Molly, Ryan, Christopher, Crystal, Jason, Cynthia and Kailey, seven great-grandchildren Dakota, Noah, Quentin, Hailey, Logan, Jacob and Charlotte as well as numerous nieces and nephews.
Mildred is predeceased by her parents, Dr. T. Elgar Roberts and Mrs. Edith Roberts, husband Earl McMullen, daughters Margaret Edith and Susan Ann, and grandson Christopher Lorne.
Mildred was immensely proud of her family and leaves behind a legacy of beautiful memories and an abundance of love.
In lieu of flowers, donations may be made to The Royal Alexandra Hospital Foundation, 10240 Kingsway Avenue, Edmonton.
Celebration of Life
2:00PM Tuesday, April 9, 2019
Trinity Funeral Home
10530 116 Street, Edmonton