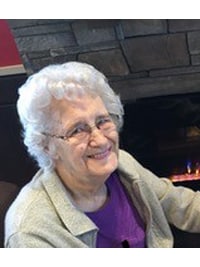 Minnie Alice (Mast) Berger
Minnie Alice (Mast) Berger, ran into the arms of Jesus on May 8, 2020. Minnie was 98 years young, and enjoyed life, especially times with her family.
Her legacy lives on through her children ——
Dianne (Jack) Dejong
Arlene (David) Kinzel
Beverly (Ron) Dytiuk
Marilyn Balehowsky
Laurie Berger
14 Grandchildren
30 great grandchildren
10 great great grandchildren
Two brothers —— John (Hennie) Mast, Joe Mast. as well as numerous nieces and nephews.
Welcoming Minnie into heaven were her husband Tymen Berger, Son in-law Norman Balehowsky, Father and Mother - Albert and Everdina Mast
Brothers: Carl, Klass, Clarence, Peter, Bill and Albert
Sisters: Carrie, Kobie and Alice, — a family reunion.
We will be having a private memorial to celebrate "Mom", Minnie's life.
In lieu of flowers, donations may be made to "Living Word Christian Centre -
5313-91 Street, Edmonton, AB T6E 6E2".
Psalm 23