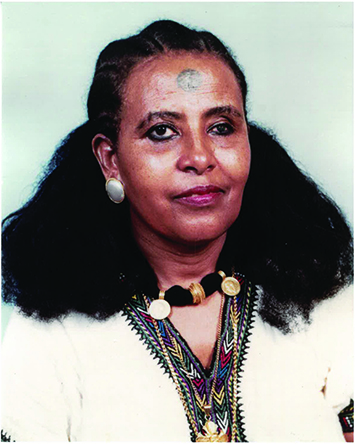 Mizan Tesfazion Tesfagergish
September 9, 1951
-
February 24, 2023
An Overview of Mrs. Mizan's Life Story By Zedingle Ghebremusse
Mrs. Mizan was born on September 09, 1951, to her parents the late Kenezmach Tesfazion Kentiba Tesfagergish and the late Mrs. Letebrihan Debas in Geza Banda Habesha, Asmara, Eritrea.
When she was young, her father transferred to work in Gonder, Ethiopia. Mizan and her older sibling the late Haregu moved to Gonder, Ethiopia with their parents. Mizan spent most of her childhood years in Gonder and the family added two boys, the late Haile and the late Zeray. Later the whole family moved back to Asmara. In Asmara, the family added the late Mlashu and the late Abraham. Mizan lost her father when she was young. After her father's passing, Mizan took full responsibility in helping her mother raise her siblings.
When Mizan reached marriage age, she married her late husband Girmay Keshi Haile and had her first child, Tegadalay Michael Ghirmay. While she was busy with her own immediate family, she felt the responsibility of helping her mother with raising her siblings and decided to find work. Because she had work experience and determination to be self-reliant, her relationship with her
husband soured and decided to divorce. Mizan raised her son and supported her siblings while working. As she was active and hard worker, she was loved and respected by many who knew her. This led to meeting the late husband Weldeselassie Ariaya (Gebel) who was the owner of Bar autisti in Asmara. Meeting Weldeselassie led to a good marriage and having her daughter Elizabeth Weldeselassie and a son Mewa'el Weldeselassie. When the political situation in Eritrea got worse, Late Weldeselassie, decided to leave his family and his business and migrate to Sudan. The responsibility of raising their children fell on Mizan's shoulders. To adequately provide for her children, she also decided to migrate to Sudan by herself. After some time there, Mizan decided to migrate to Cairo, Egypt. As Mizan was always concerned with her children's situation, she decided to bring Elizabeth and Mewa'el to Cairo. Later Mizan decided to send Mewa'el to Sweden while Elizabeth and her husband Samson Dirrar moved to Edmonton. On March 23, 2005, Mizan joined her children Elizabeth and Samson in Edmonton. After about a year, Mizan hated staying at home and decided to look for work. Mizan worked at Kingsway Garden Mall for about four years, but she started not feeling well by 2010. After getting medical attention she started to feel better. She later got diagnosed with Alzheimer. On January 16, 2010, she got admitted to the hospital.
Not long after the hospital, she became dependent on her children. In 2017, when Elizabeth was admitted to the hospital for surgery, Mizan was admitted to a seniors' home. After that Mizan was getting sick on and off. On February 24, 2023, Mizan passed away peacefully of Pneumonia at Sturgeon Hospital in St. Albert, surrounded by her children Michael, Elizabeth, Samson, her nephew Yonas and family friend Ghidey. Mizan will be lovingly remembered by her children: Michael and his wife Aster, Elizabeth and her husband Samson, Mewa'el and his wife Loris, and her 17 grand Children, Helen, Yohana, Wentana, Bethel, Abel, Beylul, Mikal, Noah, Luna, Feruz, Nathaniel, Bethlehem, Sandro, Serena, Savina, Sevora, Summer and her nephews and nieces: Eden, Samrawit, Tedros, Yonas, Ethiopia, Mehari, Merhawi, and many friends who loved and cared for her at a time of need.
May she rest in peace.
Funeral Service
Saturday March 11, 2023, 10:00AM
St. Elia Ukrainian Orthodox Church
11833 66 st NW, Edmonton Alberta T5B 1J2
ሓጺር ታሪኽ ወ/ሮ ሚዛን ተስፋጽዮን።
ወ/ሮ ሚዛን ካብ ኣቦአን ቀነዝማጅ ተስፋጽዮን ከንቲባ ተስፋገርሽ ካብ ኣዲኤን ወ/ሮ ለተብርሃን ደባስ ኣብ መስከረም 09, 1951 ኣብ ገዛ ማንዳ ሓበሻ፣ ከተማ ኣስመራ፤ ኤርትራ ተወልዳ።
ኣብ ግዜ ቁልዕነተን  ካኣ  ወላዲኤን ብስራሕ ምኽንያት ናብ ጎንደር ገዓዙ እሞ ወ/ሮ ሚዛንን ምዕባየን ሓፍተን ሓረጉን ምስ ወለደን ናብ ጎንደር ገዓዛ። እቲ ዝነውሐ ዕድመ ንእስነተን ከኣ ኣብ ጎንደር ኣሕለፎኦ።  ኣብ ጎንደር 2 ኣሕዋተን    ሃይለን ዘርኣይን ተወለዱለን። ድሕሪ እዚ እውን ብስድራቤቶም ናብ ኣስመራ ተመልሱ። ኣብ ኣስመራ እውን ምላሹን ኣብርሃምን ዝተባህሉ ሓፍትን ሓዉን ተወልድለን።
ገና ኣብ ግዜ ንእስነተን ከለዋ ወላዲኤን ብሕማም ምኽንያት ብሞት ተፈልይወን።  ድሕሪ ሞት ኣቡአን ካኣ የእዋተን ከዕብያ ምስ ኣዲኤን ምሉእ ሓላፍነት ተሰከማ።
ዓቅመ ሄዋን ምስ በጸሓ ከኣ ምስ ባዓል ቤተን  ኣቶ ግርማይ ቀሺ ሃይለ ቃል ኪዳን ኣሰራ፤ ንቦኽሪ ወደን ተጋዳላይ ምኪኤል ግርማይ  ከኣ ወለዳ። ማዕረ ማዕረ ሓደረን ካኣ፣ ነሕዋተን ንምሕጋዝ ሓላፍነት ተሰመዔን እሞ፣ ስራሕ ክጅምራ ወሰና። ድሮውን ናይ ስራሕ ልምድን ሰሪሕካ ነብስኻ ምኽኣል ዝብል ኣተሓሳስባን ስለ ዝነበረን፣ በዚ ምኽንያት ከኣ ምስ ባዓልቤተን ናይ ሓሳብ ፍልልይ ፈጠረለን እሞ፤ ተፈላለዩ።
ስራሕ እንዳሰርሓ ከኣ ወደንን ኣሕዋተንን ክኣልያ ጀመራ።
ኣብ ስረሐን ትግህትን ንፍዕትን ስለ ዝነበራ፣ ኩሉ ዝፈልጠን ይፈትወንን የኽብረንን ነበረ። እዚ ኸኣ ምስ  ኣቶ ወልደስላሴ ኣርኣያ(ገበል) ኣብቲ ግዜ እቲ ወናኒ ባር ኣውቲስታ ዝነበሩ ንኽላለያ ዕድል ፈጠረለን እሞ፤ ብኡ ንቡኡ ምዉቕ ሓዳር መስሪቶም ን ጓለን ኤልሳቤት ን ንወደን መዋእል ወ/ስላሰ ወለዱ።
ድሕሪ ግዜ ግን ኩነታት ሃገርና እናከፍኤ ምስ ከደ ባዓልቤተን ኣቶ ወ/ስላሴ ናብርኦም ራሕሪሖም ናብ ሱዳን ተሰዱ።
ሕጂውን ምሉእ ሓላፍነት ደቀን ናብአን ጥራሕ ወደቀ። ጥዑም ዝለመዱ ደቀን: ከይሓስሞም ብምሕሳብ ካኣ፣ ንሰን'ውን ናብ ስደት ናብ ሱዳን ኣምርሓ። ጸኒሐን ናብ ካይሮ፣ግብጺ ሰገራ።
ጸኒሔን ካኣ ንደቀን ኤልሳቤት ን መዋእልን ብንእሽትኦም ናብ ካይሮ ኣምጸኦኦም እሞ  ኣብ ካይሮ የዕበየኦም።
ንመዋእል ወደን ንስዊድን ኣፋነዎኦ። ኤልሳቤት ጓለን ምስ ባዓል ቤታ ኣቶ ሳምሶም  ድራር ናብ ኤድመንቶን፣ካናዳ ኣምሩሑ።
ጸኒሐን ንሰን'ውን ኣብ  መጋቢት/Mar 23, 2005 ናብ ደቀን ኤልሳን ሳምሶንን ናብ ኤድመንቶን ተጸምበረኦም።
ድሕሪ ሓደ ዓመት ምዕራፈን፣ ስራሕ ዝለመዳ ወይዘሮ፣ ልዕሊዚ ብዘይ ስራሕ ክጸንሓ ስለ ዘይመረጻ፣ ኣብ ኪንግስ ወይ ሞል (Kingsway Mall) ስራሕ ጀሚረን፣ ን 4 ዓመት መመላእታ ድሕሪ ምስረሔን ኣብ ዓመተ 2010 ኣብ መጀመርያ ወርሒ ክጽለኤን ጀሚሩ፣ ሕክምና ተገይሩለን ክሓውያ ክኢለን። እንተ ዀነ ግና: ጸኒሐን 'ውን ብ ኣልዛይመር (Alzheimer) ሕማም ተጠቅዓ።
ኣብ ጥሪ/Jan 16, 2010, ካኣ ሓሚመን ኣብ ሆስቢታል ደቀሳ።
ብኡ ንብኡ ኻኣ ብደቀን ክእለያ ጀመራ። ከይጸንሓ ካኣ ኤልሳ ጓለን ሓሚማ ሕክምና  ኣትያ መጥባቲ ገበረት እሞ፣ ኣብ 2017 ወ/ሮ ሚዛን ናብ መዕቆብ ዓበይቲ ( Senior Home) ኣተዋ።
ድሕሪ ኢዚ ተደጋጋሚ  ክሓማ ብምጽንሔን፣ ብ ኒሞንያ (pneumonia )ተጠቒዔን ኣብ ስታርጅ ን ሆስፒታል ሰንት ኣልበርት (Sturgeon Community Hospital St Albert) ብዕለት 24, ለካቲት/April 2023 ኣብ ትሕቲ ደቀን ሚኪኤል፣ ኤልሳ፣ ሳምሶን፣ ዮናስ ወዲ ሓወንን ፈታዊተን ግደይን ብሰላም ዓረፋ።