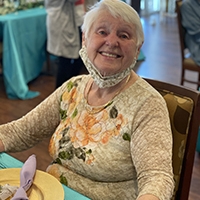 Nancy Catherine Jacquard
October 16, 1944
-
July 22, 2021
On July 22, 2021, Nancy Jacquard of St. Albert, Alberta passed away unexpectedly at the age of 76 years.
Born October 16, 1944, in Abram's River, she was a daughter of the late J. Elien and Blanche F. (LeBlanc) Muise. Nancy was a homemaker, having also worked as a kitchen helper for the Canadian Forces in Edmonton for some time. She loved bingo, fishing, camping, and listening to her favourite records in her spare time. She had a special place in her heart for animals and through the years cared for many special creatures. In later years she embraced retirement living and was very social, creating a large circle of friends and enjoying many activities and social events. She would chat with anyone and was well loved by all she touched.
She is survived by her loving husband of 59 years, John (Enos) Jacquard, as well as by their children, Keith Jacquard (Janice), St. Albert, AB; Kevin Jacquard (Leslie Applegate), Calgary, AB: Sue Jacquard (Chris Hanson), Edmonton, AB. Also surviving are her loving grandchildren Douglas (Danita), Cassandre (Jessie), Johann, Tyler, William, Thomas, Troy and Marcus; great grandchildren Deakin, Kyla, Suri, Chael and Nate along with many nieces and nephews. Also surviving is her brother Edward (Elsie) LeBlanc, Ste Anne-du-Ruisseau, NS and many other members of her extended family.
Aside from her parents Nancy was predeceased by siblings Flavien, Jules, Lorraine and Martin Muise, as well as by two brothers in infancy.
A Celebration of life will be held Friday July 30, at 2 p.m. at Trinity Funeral Home, 10530-116 Street NW, Edmonton Alberta, T5H 3L7.
To watch the service live remotley please click the following link: