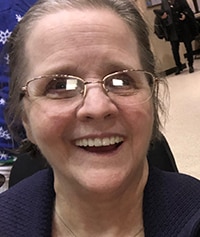 Nancy Rae Giles
 April 5, 1950 - January 6, 2020.
Nancy Giles passed away at the Jubilee Lodge in Edmonton, Alberta, on January 6, 2020. Born in Rosetown, Saskatchewan, Nancy lived most of her adult life in Edmonton. She is survived by her sons Lyle Titus and Greg Titus, her sisters and brothers Laurie Somers, Susan Alexander, Michael Giles, Patricia Giles, Aurelian Giles, Mark Giles, and Dean Giles.
She was pre-deceased by her parents Dr. Charles Ray Giles and Laura Secord Giles (née Jackson).
In lieu of flowers, donations may be made in Nancy's name to the MS Society of Canada.