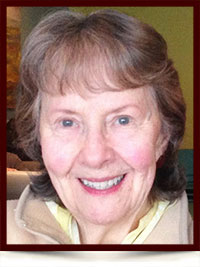 Noreen Margaret Dunbar
Noreen Margaret Dunbar passed away gently on December 22, 2016, in Edmonton, AB at the age of 84.
Our beautiful Noreen was born in Port Arthur, ON (Thunder Bay). She worked and had many adventures as a Bell Telephone Supervisor, RNA, bookkeeper, family support caregiver, and motel proprietor. In the 1970's was a founding member of The Northern Women's Centre and Northern Woman Journal.
Noreen lived each day with practicality and an independent, empathetic spirit. With her attention on the women's movement she volunteered at a transition house for abused senior women after retirement. In 1987 she and her beloved husband, Charlie, made the move to follow their hearts to White Rock, BC. There they spent many wonderful years travelling, dancing, sailing, enjoying friendships and living life to the fullest.
Noreen will be greatly missed and forever loved by her three children, Randy Lavoie (Judy) of Kindersley, SK, Sandy Lavoie (Michael Hrycyschyn) of Edmonton, AB, Marcy Lavoie (Victor Lucas) of Vancouver, BC; her grandchildren Jason, Jenna, Erin, Renee, Ruby and Charlie's nine children. Also remembering her are her many supportive lifelong friends, relatives, feminist sisters in Thunder Bay, and her dear friends from the White Rock Traditional Jazz Society where she had been an active member for many years.
Noreen is predeceased by her brother Jerry Dunbar, her parents Edith (Sinclair) and Gordon Dunbar, Marcel Lavoie the father of her three children, and her love, Charlie Skinner.
We are so grateful to have had this smart, principled and incredibly loving woman in our lives.
At Noreen's request, there will be no public memorial service.
Memorial contributions may be made to a heart and stroke foundation or a charity of your choice.