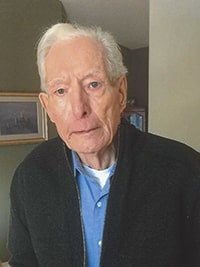 Norman Rudolph Heyden
JULY 27, 1929 – MAY 29, 2018
Norman Heyden, loving husband, father, grandfather, and great grandfather passed away with his family  by his side on May 29, 2018 at the age of 88.
Norman was born in North Battleford, Saskatchewan and was raised on the family farm in the Belbute Saskatchewan area.  As a young man he moved to Alberta where he met and married his wife Ida. First settling in Swan Hills and later moving his family to St. Albert where they lived for the last 50 years of his life. Norman worked for several constructions companies in the oil industry before owning his own company. He loved camping, boating and fishing with his family and grandchildren.
Norman is survived by his loving wife of 63 years Ida (Kidner) Heyden ; his children: Calvin (Debbie) Heyden of St. Albert; Carolyn (Timothy) Thompson of Spring, Texas; Karen van den Berge of St. Albert;  and Brendalee (Mark) Gorbahn of Paso Robles, California; 12 grandchildren and 6 great grandchildren.
Norman was predeceased by his parents Adrian and Mary (Wappel) Heyden, son-in-law Ronald van den Berge, several of his brothers and sisters.
Funeral Service
Saturday June 9, 2018 at 12:00 noon
The Church of Jesus Christ of Latter Day Saints in St. Albert
10 Akins Drive St. Albert, Alberta