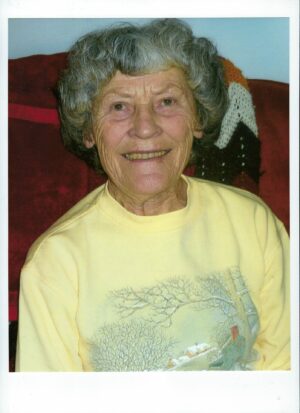 Olga Boyko
September 5, 1934
-
May 19, 2022
On Thursday, May 19, 2022, Olga Boyko passed away peacefully at the age of 87. She is survived by her 5 children; Debbie (Pat Lang) her 2 children Josh Denman and Vanessa Denman; Joan (Brian Groff); Robert (Bob) his 2 children Kane and Travis; Cindy (Dan Shaw); and Brad (Linda Flury). Olga is also survived by her sisters Elizabeth Yaceyko and Susie Smithson, her brother Dan (Vicki) Onysyk, sisters-in-law Patti Onysyk and Elizabeth Boyko along with numerous nieces and nephews.
Olga was predeceased by her husband William, her Parents Mike and Anna Onysyk, sisters Mary Honkonen, Kay Tanasiuk, Stephie Coggins, Ann Ozimok, and her brothers John, Peter and Andrew Onysyk.
Olga was an avid gardener and a wonderful cook. One of her favorite pastimes was mushroom picking with the family. Mom had a huge heart when it came to her animals whom she loved dearly. She had a lifelong love for curling and golf, playing well into her early eighties. In her younger years Mom played softball with Dad coaching and young children at her feet. Her passion for these sports impacted numerous friends and family and were always a source of joy in her life. 
A celebration of Life will be held Friday, June 3rd, 2022, at 1100am at St. Michael Resurrection Parish, 10555 50A Street, Edmonton. She will be laid to rest next to her husband Bill at a private Family Interment.
In lieu of flowers Memorial Donations can be made to:
Grey Nuns Palliative Care : The Legacy Work Program 
Tertiary Palliative Care Unit, Station 43
Grey Nuns Hospital, Edmonton, Alberta
1100 Youville Drive West
Edmonton, AB T6L 5X8