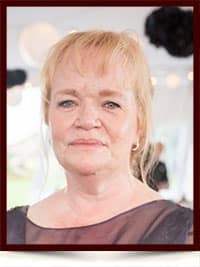 Patricia Lynn Senkiw
September 27, 1957 - May 22, 2017
It is with heavy hearts the family announces the passing of Patricia Lynn Senkiw. On Monday May 22, Patti passed away peacefully in the care of the compassionate staff at the Grey Nuns Hospital. Patti will be remembered for her deep love of family. Her children and grandchildren were her absolute pride and joy. Her visits were often centered around a display of all the most recent photos of those she held so dear.
Patti was predeceased by the love of her life: Barry Alexander Mullins. Her family takes comfort in knowing that they are once again reunited to share in love, laughter, and merriment. She is lovingly remembered by her children: Casey Senkiw (Jenn), Valerie Dyer (John), and Kaitlyn Mullins. Her Grandchildren: Brandon, Hailey, Adam, and Justin. Siblings: Judy, Mike, and Carol.
A final farewell to commemorate a life well lived will take place at Trinity Funeral Home 10530 116st NW on Saturday May 27, 2017 at 2PM. Interment is to follow on a later date at Westlawn Memorial Gardens.
In lieu of flowers, the family asks you take the time to show your family how much you care. If you still wish to bring flowers, Lilacs are Patti's favorite.