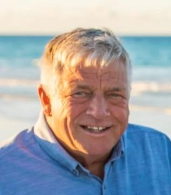 Paul Arthur Cracknell
December 14, 1954
-
July 22, 2023
Truly, one of the Great's!
Paul was born in Winnipeg to Fern and Dick (Richard) Cracknell.  During his childhood years his family made their home in many locations. (Winnipeg, Port Hardy, Maple Ridge, Jasper and St. Catharines.) He has one brother, Richard and twin sisters, Jenny and Joanne.  He was predeceased by his grandparents, parents, and common-law-wife Wendy.
Paul was a very hard-working man.  He worked in a number of different places over the years. Palm Dairies, Hudson Bay Mining Company, Canadian Freightways, Caron Transport and GE/Suez.  He even tried his hand at owning and operating his own truck. Most of his career was spent hauling chemicals and he loved every minute.
He retired at the age of sixty-five even though he loved his job at GE/Suez.   It was a big adjustment for Paul, but he managed to find a new routine.  He had coffee and read four newspapers every day.  (He hated Mondays because he didn't receive an actual paper newspaper and had to read online).  He loved his F150 Ford truck and washed it very faithfully, whether it needed it or not.  We visited his best friend Mark (which married his sister Jenny), phoned and talked with friends, went out for lunch, lifted weights, went on long walks, had a beer with neighbors, watched question period and lots of news. On Tuesday's he always headed out to buy lottery tickets and later in the day watched his three favorite FBI's shows.  Over the last few years Paul also watched and followed the Toronto Blue Jays.
Paul and JoDee loved to escape the Edmonton winters and head to Puerto Vallarta.  For the last sixteen years they had a group of friends that they would meet there every December and March.  It became like a second home to them and after he retired, they were able to go for a month at a time, which he loved!  Travelling was in Paul's blood and any opportunity he got he made the most of it.  It started after high school when he took a trip to Europe with a couple OLB friends.  He visited San Francisco, Oakland, Mexico, Radium, Victoria, Toronto and Las Vegas multiple times.  He also visited Philadelphia, Houston, and New Orleans.  When Paul did long haul, he had drove through every USA state except Hawaii.
In December 2022, after a very long engagement, Paul married JoDee and they just had a party to celebrate their wedding on June 3rd.  He loved her dearly and they had lots of good times together!
Paul loved the Silver and Black!  He was a loyal Raiders fan all his life and went to several games in Oakland over the years.  Sunday was always Football Day at our house.  It started at 10 am watching Fox with Howie and the boys, then football from 11 am to 9:30 pm.   He would throw in a few beers, a beer can chicken for supper and a Raiders win….  life was great!
Paul loved good food!!! His favorite was Steak and shrimp dinner with Greek salad, but a close second was a fish dinner, any kind as he liked them all.  He was fortunate enough to go fishing off the west coast with Mark, Jenny and Chase several times.  Definitely, one of the highlights in his life as he always talked about it.
Paul loved and was loved by many.  He was a kind man that always saw the best in people and always tried to help whenever he could.
On the afternoon of July 18th Paul was admitted into the University of Alberta hospital.  After several tests it was determined that he had a very aggressive liver and lung cancer.  He passed away on the morning of July 22 with close family members by his side.
In lieu of flowers donations can be made to Ronald McDonald House, Canadian Cancer Society, or a donation of your choice.
********
The Truck Driver's Journey
He drove the dusty old back roads,
The long and lonely ride.
Transporting never ending loads,
To townships far and wide.
From East to West and North to South, He's travelled this wide brown land.
Through drought, and flood, and fire,
He has always lent a hand.
The open road adventure,
The life he loved so well,
The friendships made and stories told,
Some days heaven and some hell.
The freedom of the journey,
Adventure of the drive.
Then home to arms of loved ones,
The best reward in life.
He worked hard and he worked long,
He always did his best.
And now his driving days are done,
It's time for him to rest.
He has been loved and love he's shared,
With those he leaves behind.
And those who went before him.
He's travelled on to find.
We wave goodbye, but not for long, we know this time will end.
When our own journeys bring us,
Together once again.
(Author Unknown)
Paul logged over three million miles,
but it still wasn't enough.
Drive Safe on your road ahead.
                         Love you lots!                           
                         ~J