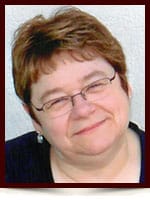 Pauline Dora Woloshyn
After a brief illness Pauline Dora Woloshyn of Edmonton Alberta passed away on April 24 2015. She is lovingly remembered by her Husband Pete Woloshyn, Son Reece Woloshyn , Daughter in law Charlotte Woloshyn, Grandsons Owen and Cody Woloshyn, all who reside in Dapp AB, Son Kelly Woloshyn residing in Edmonton, sister Ronalda Smith (nee Atamanchuk)and husband Kevin of Elma MB, and niece Samantha Smith of Elma Manitoba.
Pauline was predeceased by her Mother Helen Atamanchuk (nee Slobodian), father Samuel Atamanchuk and brother Marvin Atamanchuk.
Pauline grew up in Great Falls MB, Winnipeg and Elma MB. She married Pete Woloshyn on May 06/1978. Together they moved to Regina where they had two sons, relocating to Elie MB and finally Edmonton AB. Pauline was a devoted wife and mother, however she excelled at being a Grandmother (BABA) to her two grandsons Owen and Cody. Her sons and her grandsons meant the world to her.
Pauline was a warm and caring person who made friends easily. She always had a positive attitude no matter how bad things got, when she received her knee replacement and cataract eye surgery she referred to herself as the "Bionic BABA". Pauline loved to travel, she and Pete would regularly take cruises to Mexico and the Caribbean during the winter Everyone who knows her will miss her greatly. Our lives will be filled with a lot less laughter, a few less hugs, but they are replaced by warm memories that will last a lifetime.
Funeral Service 
Friday May 1, 2015 1:00 PM Central Memorial Chapel 10530 116 Street Edmonton, Alberta
Celebration of Life
Friday May 8th, 2015 1:00 PM Association of United Ukrainian Canadian Hall 595 Pritchard Avenue, Winnipeg Manitoba
"Time and memories are the two most 
Precious gifts you will ever get and the two most
precious gifts you will ever give!!!
Thanks for the wonderful Memories Pauline
Contact Information:  [wpseo_address oneline="1" show_state="0" show_email="0"]