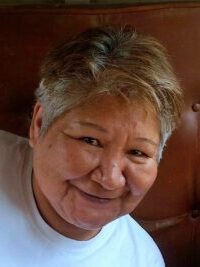 Pauline Eva Belmore (Nataway)
January 13, 1957
-
May 15, 2021
It is with great sadness that Pauline Eva Belmore's children - Rae Ann, Ruth, Raymond and Michael - announce her passing on Saturday, May 15, 2021 at the age of 64. She was born in the Northwest Territories and moved to Edmonton, Alberta in the '80s.
Pauline was a strong, beautiful lady who had a laugh that was all her own. She had a smile that could light up a room. If she was smiling and you saw her you could not help but smile back. She loved to play bingo, binge movie watch and spend time with friends, family and friends who had become family. 
She is predeceased by her husband Raymond Michael Belmore (May 2019).
Her grandchildren - Shammy, Mercedes and Jaeda - miss their Gramma dearly. She leaves behind her three sisters, Milly, Victoria and Delores, as well as brothers Allen and Albert.

Her life meant the world to those her smile touched. She always had a hug for anyone. She didn't have much but would do anything she could if you needed a helping hand. She forgave and always saw the best in everyone. We look forward to celebrating and remembering Pauline in the months to follow...Wife, Best Friend, Mother "Mama", Gramma, Sister.
"Until we see you again, God has a wonderful Angel. You can now soar high."
Please let us know if you want to join us in celebrating Pauline. 
Due to COVID, we'll gather at a later time.