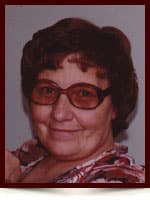 January 20, 1933 - September 23, 2011
The surviving sons announce with sadness the loss of our Mother, Pearl. Experiencing happiness and hardship in life, she is finally at peace. Left to grieve in her passing are many she touched in the simple friendships she so easily made, family members near and far, young and old. She will be missed.
As per her wishes a private service is planned with Interment at St. Michael's Cemetery.
The family express sincere thanks to all those who took the time to care for Mom, comfort Mom, offer Mom the respect, kindness and dignity she so rightly deserved.
- Don't judge until you have eaten from the same loaf of bread.
- The opposite of love is not hate, but indifference or apathy.
Peace.