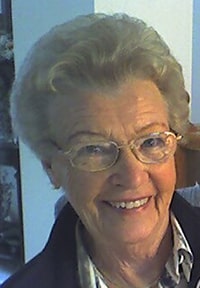 Pearl Louise Lenon (formerly Perry)
It is with great sadness we announce the passing of Pearl Lenon (nee Ellis) on August 22, 2019 at the age of 98.  Pearl was born in Taber, Alberta.  Southern Alberta was home in her early years, and the City of Lethbridge figured prominently in her life.  Pearl grew up, went to school, worked and eventually was married there.  Her father, Fred Ellis, passed away when she was seven, and her mother, Anna, raised their four children: Pearl, sisters, Laura and Vera, and brother Homer.   All have predeceased Pearl.
Pearl was married in 1942 to Cameron Perry.  They had 33 happy years together until his sudden passing in 1975.  Two boys, Dr. Douglas Perry (Brenda) of Edmonton and Robert Perry (Stacey) of Calgary, six grandchildren, and twelve great grandchildren survive Pearl.
Through Cam's career in broadcasting. Pearl had opportunities to live in Lethbridge, Victoria, Grande Prairie and finally Edmonton.  The two had an active social life and enjoyed spending time with friends and family. She had a passion for homemaking, playing Bridge, curling, collecting Royal Dalton figurines, and needlepoint.
In 1977 Pearl married Amby Lenon, a well-known florist in the Edmonton area.  They shared an interest in flowers and the floral business as Pearl had worked in a flower shop in Lethbridge.  During their marriage, Pearl and Amby enjoyed summers at Pigeon Lake and winters in Maui.  Amby passed away in June 1990, and since that time Pearl has lived in West Edmonton.
At Pearl's request no formal service will be held.