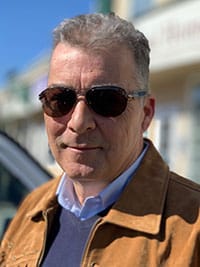 Peter John Kehoe
May 30, 1959 - July 28, 2019
It is with great sadness that the family of Peter Kehoe announce his passing Sunday evening, after a brief but faithful struggle, at the age of 60 years. Beloved father to Christina (Chris) and Peter (Chelsea). Proud and loving grandfather to Sofia. Peter also leaves to mourn his longtime love, Aurora, and his siblings David, Tommy (Sue), Ann Marie Martel, John, Jennifer (Don) Levins, Judy (Patrick) Fox, numerous nieces, nephews and many dear friends. He was predeceased by his father Bill, mother Bonnie, brother-in-law Peter Martel, and nephew William Martel. The family wishes to express their sincere gratitude for the care and compassion Peter received while at unit 5 East of the Royal Alexander Hospital Robins Pavilion.
Peter was born on May 30, 1959 in Sudbury, Ontario to William and Yvonne Kehoe. He was the second of seven children. As a young man, he would spend his spare time working on bicycles and cars with his siblings and close friends. His love of cars remained constant as he collected and restored numerous old vehicles from small British sports cars to large trucks and luxury coupes.
He was a lifelong rock 'n' roll and blues enthusiast. He managed his friends' band where he would help to arrange gigs and oversee logistics. He also loved the outdoors. He took many fishing trips with family across western Canada and routinely joined his family at their hunting camp in rural Ontario for the annual white tail deer hunt.
It was not until he moved to Edmonton at the age of 23 where he met the love of his life, Aurora, and was soon married. They started a family and had two children. Together, the family shared fond memories, including dinners at his in-laws, road trips, fires in the back yard, and watching movies.
While growing up in Ottawa, he worked in a variety of fields including hospitality and furniture refurbishment. He was a skilled wood-worker and finisher. His faith-inspired pieces included keepsake urns and ornamental crosses for churches and family homes. In his youth, he also worked in a local pharmacy and at a small funeral home. However, Peter knew he had a higher calling. Soon after arriving in Edmonton, he began his career in Funeral Service.
For the next 35 years, Peter worked in numerous funeral homes in Edmonton, as a devoted employee, deliberate manager, and trusted mentor. He had a passion for service and a sincere devotion to helping families in their time of need. During the sunset of his career, he worked as the General Manager and advisor to a small, independent funeral home founded by his best friend, John. At Trinity Funeral Home Ltd., Peter helped to establish a standard of service excellence, propelling the business into one of the region's most reputable funeral homes.
Peter was also a dedicated and passionate member of the Alcoholics Anonymous fellowship. He was an active member of many groups, often guest speaking and chairing meetings in the local community. He also attended meetings across North America. He also enjoyed big book studies with close friends, either in groups or one on one. In 2019, he received a Diploma in Drug and Alcohol Treatment Specialist, graduating with highest honours.
He was a spiritual person, inspiring others with his faith and values. He was a life-long, devoted Catholic who found tranquility and peace through the church. After discovering his indigenous roots, he became fascinated and inspired by teachings and traditions he learned from close friends and Elders. He proudly participated and practiced a variety of ceremonies and events within various First Nation communities.
Peter will be greatly missed by his family and friends. His wit, authenticity, eloquence, sense of style, dry sense of humour, and compassion will live on our memories and in our hearts.
'We love you, Peter. And thank you for everything.'
Wake
4:00PM - 9:00PM Thursday August 1, 2019
Sacred Heart Church of the First Peoples
10821 96 St, Edmonton, AB
Mass of Christian Burial
10:00AM Friday August 2, 2019
Sacred Heart Church of the First Peoples
10821 96 St, Edmonton, AB
Interment
St. Albert Municipal Cemetery
Poundmaker Road St. Albert, AB