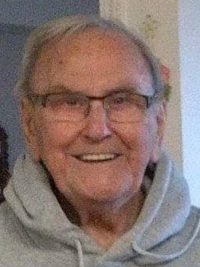 Peter Laxton
It is with great sadness that we announce the passing of our beloved father Peter Laxton.
Peter was predeceased by his parents John Samuel Charles and Rose Alba Laxton.
Peter was born in Montreal, Quebec where he grew up in a family of 21 children and has now completed the circle of their lives. While many of his nieces and nephews will continue to carry his memories forward.
Peter, his wife Betty and family moved to Alberta in the early seventies. He was very involved with the community hockey programs, then went on to become a most proud spectator while watching his grandchildren partake in the game. Many will remember " Peter Puck" with his strong voice singing the National Anthem to open the game. Along with being a true to the heart fan of is "Montreal Canadians" his passion was always in the game. His greatest pleasure was hosting a campground where he met people from all different places. He loved people, nature, music and he loved life.
To cherish his memory are his loving wife of 70 years Betty; daughters: Linda Laundry, Deborah ( Jack) Huber and Karen Laxton; sons: Gordon Laxton and Dan Laxton. Peter loved his family and was very proud of all his children, Grandchildren (14) and Grandchildren (11) numerous nieces and nephews and many close friends near and far.
We would like to acknowledge and sincerely thank all of the staff at the Choice Day Program of Good Samaritan for all their compassionate care of Peter.
Special mention to Anita of Bayshore Home Health, along with the other support workers who all provided him excellent comfort and care.
As per Peter's wishes, there will be no service.
"In life we loved you dearly, in death we love you still.
in our hearts you hold a place no one will ever fill"
Memorial Donations in Peter's name may be made to a charity of your choice.