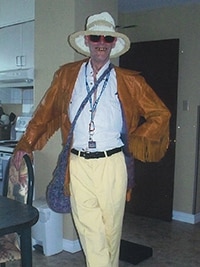 Philip Aylward
September 27, 1951 – December 20, 2015
After many years of physical and mental illness, Philip Aylward passed away peacefully in his sleep the morning of Sunday, December 20. More importantly, for 64 years before that Philip taught us about life, love, and perseverance. Whether through his own sense of fashion, love of music, or saying what he felt needed to be said, Philip left a mark on all of us that will not be forgotten.
 A self-defined "unusual" person, Philip took exceptional pride in being "not usual". He was truly at his happiest wearing something he found extraordinary, made out of good materials, paired with a fresh haircut. He loved to be around those worth his love and truly cherished these relationships.
 Following his passing, the staff of the residence he lived at wrote a beautiful memorial:
 Philip moved into Kairos House on Feb 25, 2007. During the ensuing eight years, he shared much of his life story with us.
 Philip spent his childhood in various foster care homes. He mentioned several types of abuse which he endured as a child, then how he found himself with a loving family who raised him and taught him to have pride in his work and appreciate his individuality. Philip worked on his foster family's farm and came to learn about muscle cars, motorcycles, tailor-made clothes and how to carry himself confidently.  Philip spoke of the importance placed on strengthening his physical, mental, emotional and spiritual health.  As an adult, Philip met his wife and they had a son named Jesse.  Jesse meant the world to Philip. Anyone who knew Philip knew he had a beloved son whom he adored and placed ahead of his own needs. Philip never missed an opportunity to praise his son, share about his accomplishments or speak about how proud he was of the man he had become. Their love for each other was a sight to behold and a privilege to witness.
 Philip was diagnosed with HIV in the late 1980s. As Philip's health began to decline, it was suggested by his support team at the University of Alberta Hospital that he seek assistance and residence at Kairos House. 
 Philip spent several years at Kairos in quite good health. He visited with his family, went on trips, spent a lot of time around the city and attended his medical appointments.  Near the end of Philip's life, he wrote some short verses.
On June 26, 2015 Philip wrote:
Life is for the living.
Perhaps it's not the season to pass on.
Start the book.
 Life is sweet
When friends meet!!
And on July 7, 2015 Philip wrote:
A God thought
Is just the beginning thought
When God is speaking
Don't interfere with it.
Keep your head clear,
And that reaches everywhere.
Amen.  This moment…IS.
Philip's smile would light up a room. He enjoyed passing time at the house by listening to music, playing games, watching movies and praying. Philip used to say "I don't need to attend church because I carry church in my heart".  Philip endured several physical ailments during this life and he stated he could overcome all these ailments by practicing his calisthenics, martial arts training, and through God.  
 Philip has touched our lives and hopefully we have helped Philip achieve peace and serenity while on his journey in this life.
 Philip's journey on earth ended on December 20, 2015 at Kairos House. Philip will be remembered for his strong, unique, loving and thoughtful personality. He was a blessing to Kairos House.
 After Philip's passing his son Jesse Aylward wrote the following:
On behalf of my family, thank you to the administrators, staff, medical staff, volunteers, and residents connected to the Kairos House. Like many house guests, my Dad and his needs were unique. The supports to meet his eating, sleeping, transportation, medical, and social needs were exceptional.

Through a shared sense of stewardship the administrators, staff, medical staff, volunteers, and residents of Kairos House fill a great need in the assisted living continuum. From the bottom of my heart, I am so thankful that this option existed for my Dad and that he was lucky enough to experience it.
To the medical professionals who referred him to this home-THANK YOU.
To the decision makers who allowed him to stay despite the stresses he put on resources and policies-THANK YOU.
To the staff that helped him dress, picked him up when he fell, and listened to music with him to cheer his mood-THANK YOU.
To his friends that were his friends to the end-THANK YOU.
To the volunteers that visited and made the meals he had a tough time finishing -THANK YOU.
To the residents/staff that went to the store for him, helped with his part of the chores, and continue to hold him in your hearts-THANK YOU.
To the many individuals who stepped up during his final days to help him remain at home and be at peace-THANK YOU!

Philip's ashes were spread at a spot he loved near Lake McArthur.
 And it was beautiful!