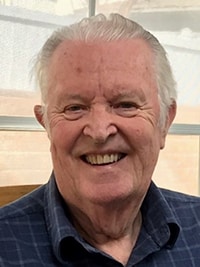 Raymond J. S. Grant
It is with profound sadness and heavy hearts that we announce the passing of Dr. Raymond J. S. Grant – beloved husband, father, grandpa, uncle, scholar, mentor, and friend.
Raymond leaves behind to honour his memory his beloved wife of 47 years, Pauline; daughter Mareika Purdon (Jaymes); son Andrew (Lindsay); grandchildren: Aidan, Brooklyn, Megan, Cameron, and Lillian. He will be sadly missed by his countless friends and colleagues from around the world in Scotland, England, the Netherlands, the Czech Republic, the U.S., and Canada.
Raymond had many passions to which he dedicated his life, work and expertise, such as Anglo-Saxon English, Robert Burns, King Ludwig II of Bavaria, St. Michael, classical music/opera and photography to name a few!
Raymond is a graduate of Aberdeen and Cambridge Universities, ordained to the Word by the Church of Scotland, a respected professor, much-published author, preacher, and public speaker. He taught at the U of A for 30 years, he also taught at Charles University in Prague, Grant MacEwan, Malaspina College in Nanaimo and others. He was a long term member of First Presbyterian Church, the Edmonton Burns Club, and the U of A Faculty Club.
Raymond is fondly remembered for his kindness, sharp wit, strength of character, smooth Scottish burr, tremendous sense of humour, impeccable grammar and willingness to give time to others.
It is Raymond's strong faith that brings us peace and strength at this difficult time.
A memorial service will be held on Sunday, February 21, 2021 at 1:00, please join online at www.twitch.tv/firstpresbyterianedmonton. Due to restrictions related to COVID-19, the service is limited to immediate family members only.
In lieu of flowers, memorial donations in Raymond's name may be made directly to the University Hospital Foundation, specifically the UHF Neuro Intensive Care Unit Fund (under the fund allocation tab within the donate now link) at www.givetouhf.ca.
Goodness and mercy all my life
Shall surely follow me;
And in God's house forevermore
My dwelling place shall be. (Crimond)