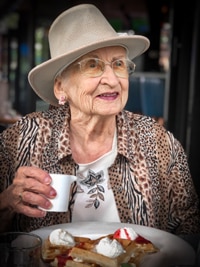 Rhea Emelia Little, née Diotte
August 19, 1930 - May 31, 2020
"Seize the moment. Remember all those women on the 'Titanic' who waved off the dessert cart."
― Erma Bombeck
Like her favourite author, Erma Bombeck, Rhea always enjoyed entertaining people with a story or witty comment. She also always checked out the dessert table at a buffet before the other courses.
One of Rhea's favourite expressions was "go see, go do" and that she did. Over her lifetime Rhea mostly lived in the Ottawa area with a few years in Orillia, Brockville, and finally Edmonton. She worked as a cashier at the A&P, a hostess at the Green Valley Restaurant and many years for Sears in customer service. Some of her happiest times were the many retirement summers at McCullough's Landing and winters spent in Daytona Beach, Florida with her husband Jack, and her trips with her sister, Myrna. Their camper van trip across Canada and around the United States was particularly memorable, as well as their trip to France and Switzerland.
Rhea had a keen mind, was always learning and enjoyed discussing current affairs. She loved a good euchre game, attending craft group with daughter Karen and friends, and a visit to the casino, particularly Akwesasne. In Edmonton Rhea delighted in the many festivals, music concerts and warm welcome of her faith community, Westwood Unitarian Congregation. Rhea loved to celebrate family and holiday occasions. In Edmonton, the niche outside her door at Rosedale Estates was decorated for each season and celebration, not to mention the accompanying hat and accessories.
Born in Arnprior ON, Rhea died peacefully, in her sleep, at the Royal Alexandra Hospital, Edmonton AB, in the company of her daughter, Brenda, and surrounded by the love of family and friends near and far.
Rhea was predeceased by her parents, Ann and Joe Diotte, her sister Jackie, and her beloved husband, Jack Little. She is survived by her sisters, Sylvia Williams, Eleanor Orser, Myrna Duford, Donna Prince and Lynda Diotte, as well as her daughters Brenda Jackson (Jean-Marcel Duciaume), and Karen Matt (Ernie).
In addition to sister, wife and mother, Rhea proudly claimed the roles of Grandma, GG (Great-Grandma) and Great-Great Grandma to her daughters' families in Ontario, Alberta, BC and Australia. GG's special musical cards and treat bags were always anticipated with delight at birthday and Christmas times.
Rhea's family thanks the staff of Rosedale Estates, Edmonton, for the excellent care and friendly atmosphere. She felt at home there, enjoying the many activities and friends. A special thank you to the staff of Unit 5 East, Robbins Pavilion, at the Royal Alexandra hospital. Nurses, aides, doctors, food service and cleaning staff, the extraordinary compassion and care you offered during such difficult times is truly appreciated.
Rhea lived a good long life. She will be remembered with love.
An on-line memorial service via Zoom is planned for August 19, 2020 at 2 pm Edmonton time, 4 pm Ottawa time. The Zoom portal will open at 1pm MDT/3pmEDT and remain open for an hour after the service for visits.
Join Online: https://uuma.zoom.us/j/97537986853   Meeting ID: 975 3798 6853
In lieu of flowers, a donation in her memory to Westwood Unitarian Congregation, the Heart & Stroke Foundation, or a charity of your choice would be appreciated.
Donations to these and many worthwhile organisations can be made through Canada Helps. https://www.canadahelps.org/