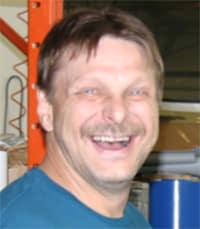 Robert Alan Burton
After a courageous battle with cancer it is with deep sadness that we announce the passing of Robert Alan Burton.
Robert Burton, known to friends as "Bob" or "Bobby" passed away on February 5, 2020, at the age of 61 years.
He was born on March 13, 1958 in Edmonton, AB., where he spent his entire life.
Bob worked at Norseman (formerly North West Tent & Awning) for over 45 years as a Fabric Cutter extraordinaire. Bob was a very valued part of the Norseman family and will be missed greatly by all of us.
Bob joins his mother, Joan llene Bryant and his grandmother, Margaret Catherine Bryant, in heaven.
Bob is survived by his brothers, Doug & Greg; his very special uncle Al Bryant and his father, Brian Burton as well as numerous cousins, close friends and his Norseman family.
A Graveside service will be held on Monday February 24, 2020 at 1:00PM at  Northern Lights Cemetery, 15203 Campbell Rd NW, Edmonton.  Immediately following the service friends and family are invited to gather at Trinity Funeral Home 10530 116 Street, Edmonton to join and celebrate Bob's life.