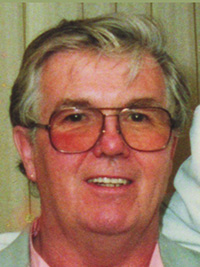 Robert "Bob" Clinton
It is with love and gratitude for a life well lived that the family of Robert "Bob" Clinton announces his passing on August 27 at the age of 80.
He is predeceased by his wife of 52 years, Helen Clinton in 2010 and eldest son Robert Jr. (Bobby) in 1983. Bob will live on in the hearts of his surviving children Chris & Greg Clinton, daughters-in-law Helen Clinton & Sally Dubois, his grandchildren Chantelle Baudette, Darius & Taylor Clinton, and great-grandchild Breanna Mae Baudette. Bob had a large extended family of brothers: George, John, Phillip William and Thomas, sisters Norma, Eleanor and Ann, nieces and nephews: Linda, Stephen, William, Claire, Roberta, Elizabeth, Bonita, and John.
He also leaves behind so many friends that it is hard to mention each one individually, from the International Brotherhood of Operating Engineers-Local 955, to the Take Five coffee spot in Beverly, to the Fiddler's Roost dance party.
At Bob's request cremation has taken place and a Celebration of Life will be held on Wednesday, August 8, 2018 at Fiddler's Roost, 7308 - 76 Avenue, from 4-6pm.
Bob was one tough cookie. He took chances in life, he travelled the world, and was known and loved by many. We are going to miss you. BUT, if you have taught us anything: you can't be sad, you got to get up, stand up for yourself, work hard and be kind. No matter what life throws at you, embrace the beautiful elements, even if you can't control the outcome.
The Family would like to extend their appreciation and gratitude to the staff of the Mazankowski Alberta Heart Institute. Donations in Robert's name may be made to STARS Air Ambulance.