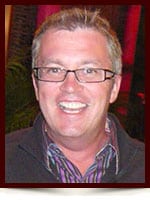 Robert Paul Boulton
Robert (Rob) Paul BOULTON (June 19, 1968 – May 26, 2014) of Edmonton, Alberta passed away after living courageously with ALS since 2010.
Rob has left to love and remember him – his wife and best friend of 22 years, Tadra; father Dr. James Boulton; mother, Henriette (John) Belcourt; brothers, James (Anita); Geoff; sister Kathy (Matt) LaFleche; niece and god-daughter Taylor; nephews Jordan and Landon; step-brother Alex (Maureen) Belcourt and step-sisters Kim and Tracey Belcourt; numerous caring aunts, uncles, cousins, extended family and friends; beloved dog Zoe and his gentle caregiver, Arnie Maon. Rob was predeceased by his step-mother, Lynn Boulton.
Rob was a respected leader in his field in the tile industry. After becoming ill, he coined himself an ALS Ambassador, Motivator and Soul Warrior. He spent his time helping educate people about the disease and assisting others with ALS and their families with advice, motivation and inspiration.
An avid golfer, Rob enjoyed traveling to some of the world's best golf courses. The diagnosis of a terminal illness sped up Rob's desire to make a difference and leave his mark on the world. He spent the last few years of his life diligently doing exactly that. He created The Caring Tree Foundation as a way for the everyday Albertan to be a philanthropist.
Rob's journey would not have been possible without the support of the ALS Society of Alberta, the Self-Managed Care program of Alberta Health Services, the iCan Centre at the Glenrose Rehabilitation Hospital and the ALS Clinics at the Kaye Edmonton Clinic and Misericordia Community Hospital. Thank you to Dr. Sanjay Kalra and Dr. Janice Richman-Eisenstat, the staff of the ALS Clinics and ALS Society for their amazing commitment to assisting patients and families. The society provided much needed equipment that supported Rob and his family as well as the eye-gaze computer that was his sole means of communicating and made connecting with the outside world possible. Thank you to Su-Ling Goh and Global TV for supporting him with his mission to create awareness and inspire others to get involved. A special thank you to Joe Ternes, President of CattleBoyz BBQ Sauce for honouring Rob by dedicating one of your products to his awareness and fundraising efforts.
Help Rob continue his legacy, by joining his Foundation: TheCaringTreeFoundation.ca or by donating to the ALS Society of Alberta (alsab.ca)
A service will be held St. Thomas More Parish (210 Haddow Close, Edmonton) at 11 am on Tuesday, June 3, 2014 followed by lunch. A family interment will take place at a later date.
Rob's mantra: We all die. The goal isn't to live forever, the goal is to create something that will.