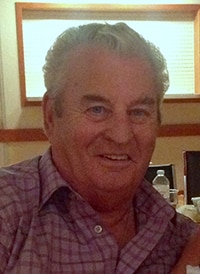 Ronald Edger Galpin
In Loving memory or Ronald Edger Galpin, husband, Father, grandfather, and best friend , who passed away suddenly on April 1st 2019.
Ron is survived by his wife Frela, Daughters Debbie (Dave Fraser) Tammy (Jeff MacDonald) Wendy (Al Low) and Son Mike Galpin (Miriam) Brothers Sid Galpin(Carol), Steve Galpin (Susan) And Sister Terry (Ernie Burn) also his Brother in Law Clarence "Carney"Maroney and Sister in law Susan Galpin. He is also survived by his two step children Shauna Dalgliesh and Vaughn Dalgliesh
Ron was predeceased by his Father Sidney Galpin, Mother Eileen, Brother Dennis Galpin and his sisters Sharon and Patricia as well as sisters in law Carol and Judy.
Ron has 6 Grandsons Jason, Dylan, Payden, Bradley, Jordan and Sean. 4 Granddaughters Desiree, Lauren, Caitlin and Brianna. 2 Great Grandchildren Leah and Jace. As well as many nieces and nephews.
Other than family , Ron had a personality that attracted many life long and close friendships.