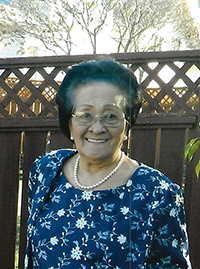 Rosario Contreras Militar
October 16, 1928
-
August 14, 2021
Rosario Contreras Militar, 92, died August 14, 2021, at the Edmonton General Continuing Care Centre. While she was surrounded by family, she goes to join her dear husband, Emiliano Militar, and all those who went before her.
Rosario was born October 16, 1928, in Passi City, Philippines. She is survived by her 5 children - Marilyn Militar Pedrola, Rosemarie Militar Cordova, Jocelyn Militar Jamelo, Josemarie Contreras Militar Junior, and Emiliano Contreras Militar. Rosario is also survived by 15 grandchildren and 13 great grandchildren.
Our Lola was a devout Catholic that always prayed for the good health and success of the family around her, especially her grandchildren and great grandchildren.
Her funeral service will be August 25, 2021, at 10:30 AM at the Our Lady of Perpetual Help Parish in Sherwood Park, 13 Brower Drive – Sherwood Park, AB.